SeEking my Polaris
still in peaceful land.. working my brains out.
work gives me peace somehow.
心真的
好累
~
i cant talk too loudly
i dare to only whisper
else i'll tread over your pretty shield;
the thin line of delicate crystal glass will shatter
you will get very angry with me
i feel like screamin at the top of my lungs till it hurts
till i know we are real
but i can only whisper
Convoluted Me
its gOnna be a lovely day?~
finally.. rationale arrives
this thing dawned upon me...
you know why love story in movies or serials are so touching, unforgettable and 轰轰烈烈?
because whatever time we spend in real life takes months and sometimes even years to develop.. to cultivate.. to nuture.
yet.. in reel life.. those are compacted into hours, minutes and seconds.
think about it.
there's nothing to be envied about.. because time is not a constant factor.
whatever seemed to take minutes in the reel to change a person's life could in fact take forever.
whatever seemed like seconds in life, could last for an eternity.
suddenly, all things makes sense. haa~
this fat ass mind of my is always full of ridiculous rationales to defeat my own fantasies.
战神
原来一直都在寻找恋爱的感觉
它并没有被我遗忘
当我放弃了
它哭泣着说
我好落寞...

+++

我一个人在角落
没有你陪伴的我
连寂寞都笑我太堕落
好想再跟你牵着手
牵着你给我的温柔

+++

been watching '战神'.. though its abit draggy.. yet, the support, love and understanding that 琦萝 & 零 has been giving each other makes me admire their kind of relationship. they have both been through hell in life, each has a twisted idea of what life is, & 零 even has depression at times.. but they are always there for each other, even when they are upset with one another; they never failed to be there through the bad times. It was the bond between them that makes sense of all things.

琦萝:
就算不是一对恋人;
能一起共同拥有泪水与欢笑;
那一重微妙的感觉;
也许那就已经足够了...
self-conditioning
yawnz.. its mOrning again~

it will be okay
it will be okay
it will be okay.
It felt like ...
didnt know you will be going away.. till tonight.
you looked kinda tired.
we said our goodbyes, i boarded the bus, sat down and searched for your figure outside.
was expecting to see your backview.. walking away to catch your bus home.
surprised to see you standing at the same position still;
looking at me intently through the glass panel;
your eyes seemed to be saying somethin.
i waved a little and tried to smile.

At that moment, love was the colour of the air.
Stand Up Speak Up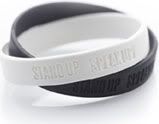 DUE TO UNPRECEDENTED DEMAND, THE INITIAL STOCK OF WRISTBANDS HAS SOLD OUT IN MANY PLACES. NIKE IS WORKING HARD TO ADDRESS THIS AND WE EXPECT TO DELIVER MORE WRISTBANDS IMMINENTLY. PLEASE BE PATIENT AND CONTINUE TO CHECK WITH RETAILERS.
BUT....
Hang on, Hang on...
im gonna be the prOud owner of the cool 'Stand Up Speak Up' wristband v sOon... yeh :)
Note:
STAND UP SPEAK UP IS A CAMPAIGN THAT EMPOWERS TRUE FOOTBALL FANS TO SHOW THEIR OPPOSITION TO RACISM.
THE PLAYERS CAN ONLY SPEAK OUT OFF THE PITCH. IN THE STADIUMS WE NEED YOUR HELP TO SHOW THE IGNORANT FEW THAT THEIR VIEWS WONT BE TOLERATED.
THE SYMBOL OF THE CAMPAIGN IS THE BLACK AND WHITE WRISTBAND. WEAR IT AND YOU STAND IN SOLIDARITY WITH THE PLAYERS AND FANS WHO SHARE YOUR DETERMINATION TO TAKE POSITIVE ACTION AGAINST RACISM IN FOOTBALL.
the migRaine stOry
phEw...
tOday's migraine alMost killed me. Severe pain like nobody's business since last night.. felt my nerves carving & twisting in my brain like the major nicoll highway collapsing a second time!
so... guess what?! lunchtime I went for a shOrt nap at hOme AGAIN... yeah~
alright, can see your eyes popping OUt and jaws drOpping. DONT ENVY.. it is one of the seven deadly sins.. LOL!
~crap~
feeling a sense of acheivement as i cleared most of the pending work stuff.. am amazed by my exceeding good productivity despite the migraine handicapped. GUess i performed best when under pressure. will hv a good sleep toNight, stress free! & the best news is that it has started rainin and my pain will be over very sOon!!
p/s: for the benefit of those who duNno... my migraine is caused by weather changed.. yes, im a walking weather forecast station.
hmm... mayb shld call myself RainGal. haha~
oVer and Out.
anOther weEkend..
gOsh~ another weekend disappearin into thin aiR again.
here i am.. gasping for breath. i wanna sniff it one last time.. sobz sobz.

i went for a luxurious treatment for my nails todaY.. and i meant luxurious. Wasnt being ushered into some cramp corners where they conveniently set up the mani/pedi shOp. In fact Nail expert at suntec was huge (ok.. free advertising starts here) ... occupying 3 units in all! Was seated comfortably in a cave like sofa area with individual space, while having jacuzzi for my feet.. reading magazine, sipping earl grey.. and having a nice lady tending to me. Felt so pampered for a full 90 mins! hahah~

oh oh oh... nearly fOrgot, sat, went to visit a frn's mum who had parkinson's disease. she underwent a tedious brain cum chest surgery to do a implant that will use battery to stimulate the brain to produce a 'juice' which is needed to command the disobedient nerves in her brain.. to reduce her 'spasms' n losing control of her limbs. her head was shaven like a nun.. w wires pokin out of her top skull.. yet, what a wonderful a lady she is, chatting abt the operation as if she was the dOcter instead of the patient! she even jOked that she is now a part machine-part human mutant. i felt like huggin her and applaudin her for the tremendous courage and optimism. when aSked why did she choose to go for the major op, she laughed and said she'd rather live a healthy persOn or not live at all~ hmm.... when will i gather that kind of cOurage?

all in all~ niceee... shall loOk forward to the lOng weekend~ yeh.
~its the way i feel tOnight... everythin will be alrite..
what aRe yOu made Of?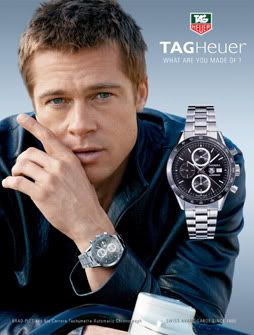 wow~ finally got this... hee. My braddy w style.. this is the classic line of carrera tag heuer chrono watch endorsed by brad. The tagline reads:- what are You made of? so coOl! Advert on strait times simply.. made me stopped and looked & stared.. cant help but notice that brad loOks like robert redford in this Ad.. hmm... is my brad gOing to be like thOse matured men ... starting to age gracefully w wrinkles and all?
+++
http://www.lcbtv.com/flash/movie/tonghua.swf
By the way... i find this sOng pretty nice n touching. chill w it :)
Clear dae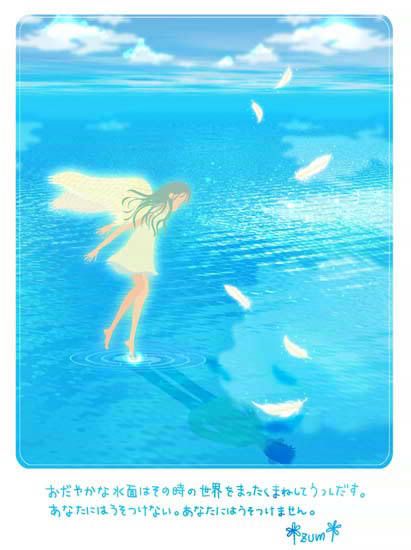 Recently...been abit dumb. Wanting to balance myself on the scale of trust, support Vs freedom, space. There can be no balance.. We can only tip-toed around with care. The slightest wrong footing will cause everythin to tumble down.'
'Tumbling down, come tumbling down..' heard of this song before?
work is more hectic due to the ISO campaign.. gotta liase w all the directors, managers and VP.. sucks. But at least it gave a chance to work w them and get to know their pattern better. & am still enjoying the learning process and hanging around with my lunch khakis. these kept me afloat :)
happiest thing that happened was when i got jay's taipei uncomparable concert all in MP3 format! and i am listening to those tracks on my HP everydae while im travellin. Jay still rOckz.
'Forgiveness is to give hate the smallest room in your heart'. - I will learn to enjoy being in the wrong from now on.
Jaz.. hv a good trip to good old perth... pls bring back as much memories as U can.. cant wait to see the phOtos.. swan river, victoria park, burswood, perth city, metropolis, vultures carousel mall.... LOVE DEM ALL :) a part of me has died with perth~
有人說...
被遺忘的人說....
某人己忘了我..
記不得..想不起
好希望..在某人的心裡在想起自己一點點
一點點就好.
至少讓自己不在那麼痛苦
至少讓自己知道...
在那個某人的心裡
還是有自己那麼一點點的存在...

被記得的人說....
某人想到我..
會痛苦..會心傷
好希望...在某人的腦海裡回憶裡減少一點點的自己
一點點就好.
至少讓某人不在那麼心傷難過
至少讓自己知道..
某人曾經那麼深深的記得自己就好
www.baidu.com
this site had fabulous Mp3s... enJoy :)
Bitter taste
thanks gals for wanting to meet up. we had non stop blabbering from 7pm till 1am?! oh mi gOd.
though i was abt to fall asleep past the 12 o'clock midnight threshold... the endless nonsensical jokes still kept me awake. hee.
the crowd hanging outside china black were simply amazing... in the wrong sense.
POSERS... loads and load of them.
was that how i behaved while i was younGer? sheeSh~
properly thats the beauty of it all... indulge in crazy, mindless activities without a care for the world. i cld almOst see my boat quay days vivdly in my mind. to stay above it all... i wonder how i survived? maybe thats why god gave me a overprotective and possessive partner then. hee.. to protect me from the senseless world?
bOnus track:
so what if you wld really love to treat a person really well
so what if all else falls away and you are still waiting for their 'hello, are you there?'
so what if you only care about their smiles & tears... have they eaten... are they warm enough?
it all amounts to naught
we are all on the look out for reciprocal love, when will we ever learn sacrifice?
Birthday boy what are you up to today? have a happy birthday~ ;p
mar 10th 2005
心情失落時
不要淋雨,
不要聽慢歌,
不要看悲情電影,
不要泡在浴缸裡喝紅酒。
遇到讓你心動的人,
不妨喜歡一次。
spirit is lifting up that tenny wenny bit.
i sat at the cathedral and i cld see shadows of depression rising up to the air..
they turned and wave at me, wearing a bewildered smile on their face.
they seemed like a long time friend, seemed to be telling me that they will be back.
nonetheless, countless prayers hv kept me whole.
yesterday was my spiritual birthday. 3 yrs ago i said the sinners prayers and was reconciled with god.
he created a new being in me, a new faith and hope to drink of his eternal waters so that i will not thirst again.
the narrow road ahead is long and winding, the broad road leads to destruction.
if god has given me salvation, is that not enough for me?
He will catch me when i fall.
i need peace, quietly...
Right, so company jus got ISO certified... obviously, there are tons of work to be done for Publicity..
Learning Point:
Bosses, they will grab every opportunity to shine their own asses.
By April im expected to roll out a ISO publicity campaign.. shall make use of this week to do some serious planning...
'When you fail to plan, you plan to fail'!
Angel was discharged this arvo.. thank God.. he is still going back for physio, but at least doc didnt deem that he needs to stay for further observations. really pray that he can recover completely.. no side effects.
yest nite i was feeling so drained.. sat quietly next to his hospital bed.. holding his hand while we talk.. about nothing.
i switched off the tv, cant stand those blaring noise. my mind was still quite warped..
at least there was peace there and we talked till there was peace within me.
finally i was able to sleep soundly throughout the night... think im really tired.
error...

sometimes life is an error...
unconsCious
無任我如何的努力...
在蘇醒的那一刻
在擁擠的人群
在憂閑的咖啡廳
在滿座的戲院
在望着窗外的車景
在放開你的手的那一秒
真的好想你。。。
Woke up at 3:45am in the middle of night again. it CAN'T be..
i hv been sleeping later and later and making myself more tired with the endless gOing outs.
its been 2 weeks now.
2 weeks of not having a good, solid, sound sleep.
feeling unconscious in the morning..
been waking up later and later cos of the 'unsound' sleep...
~for every aCtion there is a reaCtion.. get what i mean?
the only consolation is that i can afford to wake up at 7:30am these dayz.
i dunno what am i thinkin of in this dull brain of mine.

anyway.. got found out that i was staring at him playin pool.. hee~
just like ta follow him around the table and smell him. cant believe myself..
pleasuRe seekin
am drifting along lately..
the sense of righteousness vs unrighteousness within me no longer seemed to hold on too strongly.
maybe becos its monday...
mindless blabbering...
this week's office life seemed good.


had work to do.
made new friends.
lunch was good.. with irene alone, or together w the other gang (Lamie).
today my dept sales person, Nat, asked me for lunch, so i jio her along to join the other guys
she seemed happy, cos she say she seldom hv lunch w the other colleagues
'cos the culture here is abit weird weird' she said.. 'pple are quite individual'
i agree... so wad more can i say that god has been truly good to me?
God has provided me with lunch company, and also time to be alone when i need to.
Lamie even jio for teabreak.. its a pte chill out session on 5th floor, a closed down canteen.
haa... some life!



On a personal note..


yest dinner was fabulous, great time catching up w the gals.. though me and linda did most of the
talking.. ya, we hv lotsa to update the gals! Linda has been headhunted!! so happy for her!
we were all yaking away and was even served free ice cream cos linda complaint abt an order that they hv forgotten. power leh that gal!
lena is feeling better and she said she enjoyed our company & is jioing for a drink session a fortnight later.. erm.. *better check my schedule*!

friends also had gd news to share one after another.. truly happy for those who hv gotten decisions made and moving on to the nx milestone in life.. :)

then erm.. siGh.. i also dunno... the usual doubts crossed my mind.
do i shake myself out of them? or do i think through what im gonna do?

*BLANK*













PrinceSs Temper
i hv this weakness..
simply cant hide my feelings... esp when im unhappy, angry or frustrated abt something.
some lame guy (ya, lamer than the one before) kept interrogating me during lunch about my JD.
no matter how i tried to explain to him, he still wanna probe further & he is from the quality dept, totally off key w me.
irene also cant stand his manner, we jus refused to say more.
i think he can go and be a CID for all i care~
thank my lucky star that.. his last day is tmr..
on our way back...
irene commented that i seemed pek chek with the guy when i replied his qns..
i didnt know it was that obvious lor... guess thats just me. ;p
Happy or not Happy, its written all over my face and
shown in the displeasure in my tone of voice.
No wonder soulmate always say that my face changed upon hearing things i dun agree with..
thot he is pulling my leg , now i know it has some truth though..
i thot i hv changed for the better, yet still cant change that flaw.. hee.
STILL have my Princess Temper after all these years.
Something that i will bring to my grave ba..!
hahah~
no wonder pple call me MISSY.. siGh.
under the weather
feeling under the weather.. the recent showers has given me migraines..
and i refused to heed my body's warning signal, stubbornly went out after work & been popping panas.
thiS morn woke up feelin hot... feverish le.
its funny how, sad songs get you even more down when u r not well..
u jus wanna indulge in them and keep to yrself.
will still go ahead with these few nites appt. telling myself: i will get better.
from my angel...
somethin to brighten up my desk... :D got it today... send to my office from angel.. kinda surprised when my receptionist called for me.. cos i dun think anyone wld come to see me.. u shld hv seen her face when she read the message attached. ya man.. damn orchard florists dun hv a decent card to go along.. they just 'broadcast' the message for the whole wide world on a plank card.. its like a patch up note.. but actually it was meant to cheer me on at my new office. wasnt expecting this at all.. how sweet~
for yr eyes only...
childhood sweets
a friendly token from my new colleague and lunch khaki.. irene.. these came with a lovenote, she said it will help to remind me of childhood memories?! i dunno abt that.. but the biscuits were in my stomach in less than a minute. haha~
for yr eyes only...
fosSil fanatics
alrighty... this is 2 cool watches!! me and my sis fav right now. ;p we are endorsing for fossil.. haha.. oh ya, by the way, yanzi is Fossil's endorser too, see the similarity now ;p
for yr eyes only...
CenterStage
a new place i hv discover... CenterStage. This is jus one of the restuarant - a thai one. v good ambience and there's live music performance at the centre of the group of restuarants - open concept! v v cool place to hang out.. shall bring zozo, nono, jaz and gang there this fri :)
for yr eyes only...
Road trip 13th to 15th feb 2005